LoveBird was founded in 2013 when I was pregnant with my 3rd baby.

I owned a CrossFit gym in Calgary at the time and was in need of a comfortable place for my new baby to rest comfortably with me while I was coaching.

I had seen a 'nest' that a fellow cross fitter was using in Europe and I figured that would be a good option to try. Since there was nothing even remotely close to it online or available for purchase in Canada, I free hand designed my own. I have been sewing since I was a little girl so I knew I'd be able to make something feasible.

My first attempt turned out 'ok' but it wasn't quite what I envisioned. So I went back to the drawing board. I didn't want a Nest that needed a cover or a separate mattress .. I wanted to be able to just throw the whole thing in the wash. I decided to try quilting the resting space stuffing in place so that it wouldn't become all clumped and lumpy over time. The first attempt at this turned out pretty awesome .. I sewed it with a diamond pattern really similar to typical patchwork quilt. I loved it. I was so proud of how it turned out so I posted pictures of it on my personal Instagram and Facebook accounts. To my surprise friends and followers started placing orders that same day!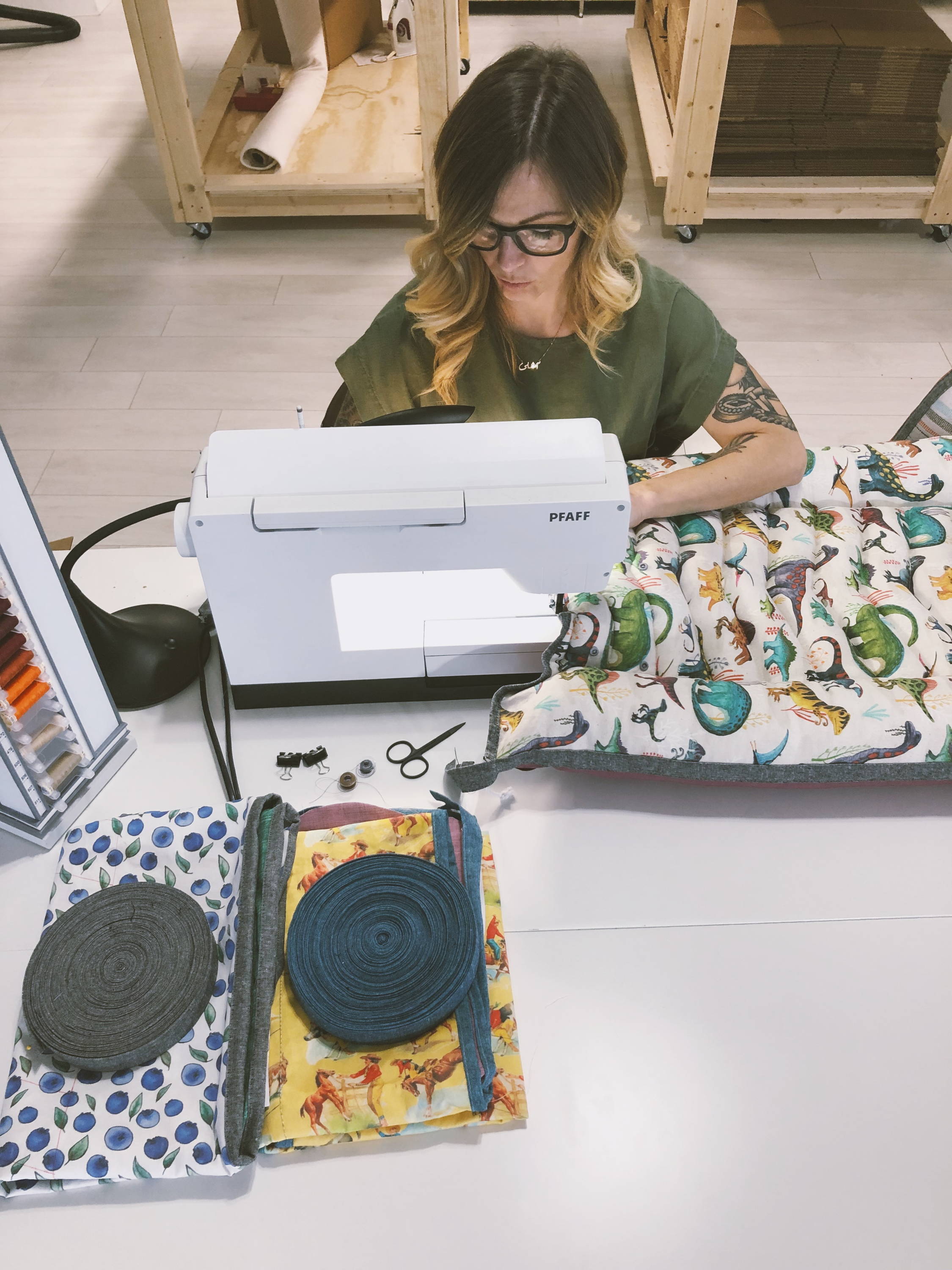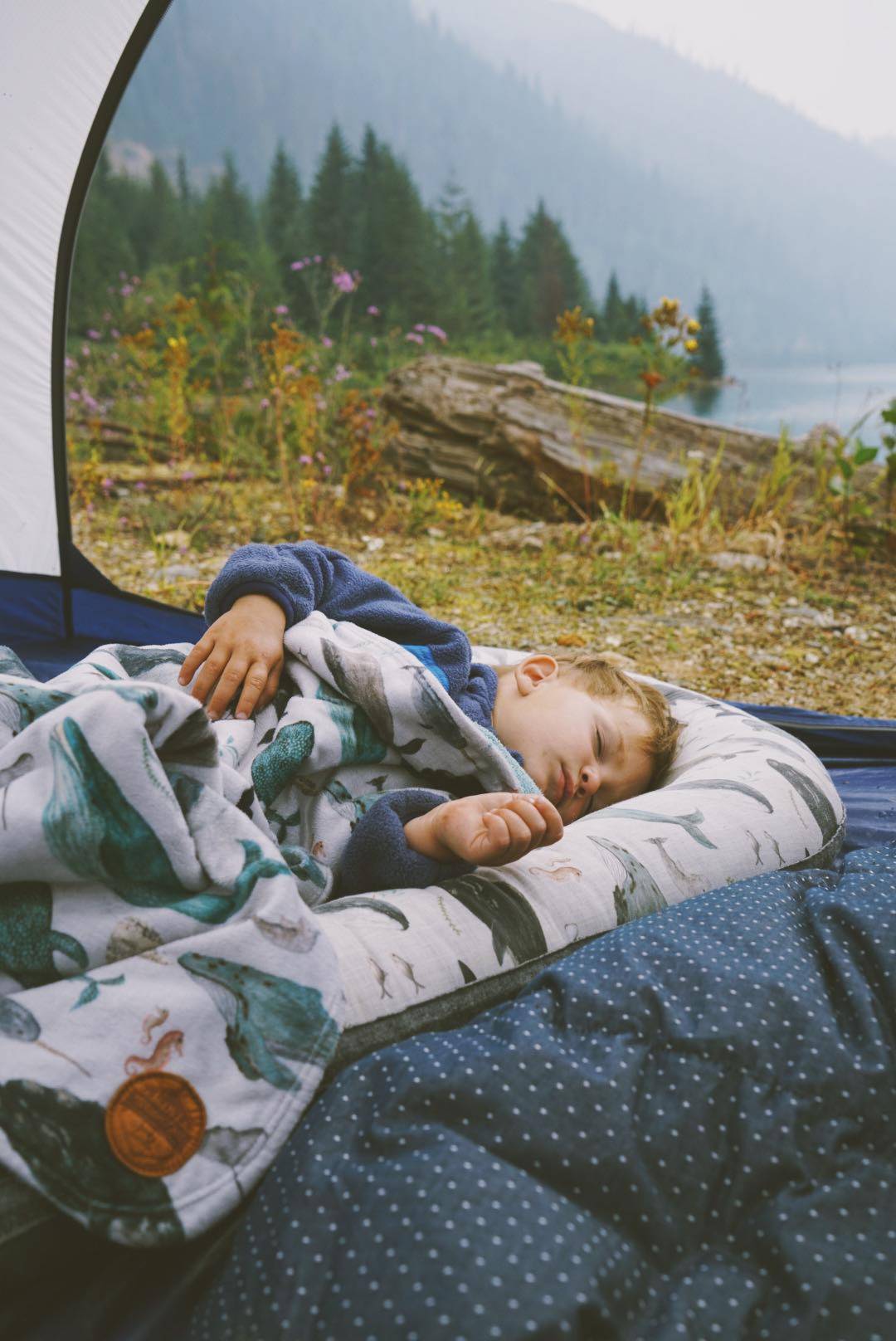 Shortly after a customer requested a chevron design fabric .. and I thought "oh a chevron quilted resting space would be so cool with this Nest" so I gave it a try. I quickly realized that the chevron design would hold the firmness of the stuffing better and it looked really nice, so from then on I've only ever sewn my Nests with that design.

I continued sewing and selling Nests in all my free time, there wasn't a lot with 3 kids and running a gym but I loved it. It was a great way for me to have a creative outlet and to provide a bit of extra income every month.

As life unfolded a few months later I became a single mom and I was forced to make a tough decision to sell my Crossfit gym and move closer to my parents in the Okanagan. This meant that I needed a steady income to support my children .. so I busted and hustled to grow LoveBird into a sustainable venture.Blood sweat and tears is no joke! I literally sewed morning noon and night! I was beyond exhausted and I don't remember a lot about those 2 years .. but the kids were fed .. and we were happy I know that much.

Fast forward a year to when Raph came into our lives. He took on a crazy entrepreneur/single mom of 3 and just dove right in to help. From watching the kids .. cleaning .. cooking (he's the best cook) he helped me in any way he could so that I could sew! Within a few short months I was shocked to learn that I was pregnant with my 4th child – insert jaw drop – After the initial shock wore off I knew that this little baby was going to be the best surprise of my life.
That little man in the window is the whole reason LoveBird started over 5 years ago now .. thumbs up WolfCub!
I was so busy by the summer of 2016 with orders that I started teaching Raph how to sew. I'm sorry but there aren't many things more attractive than a man that sews .. especially when he sews for children. He's surprisingly an excellent sewer and he actually loves it! Who knew?? We now sew and run LoveBird together full time while raising a crazy crew of 4 kids!!

In January of 2017 we hired a full time seamstress to help us after our baby was born. She was invaluable to us at the time.By September we were going at a rapid pace .. and were finally able to lease a workshop space in our little town here in BC.

Since the fall of 2017 we have hired about 9 more moms in our community. While helping to contribute to their families income, they have the flexibility to raise their children around schedules that include child pick ups, drop offs, cold and flu season, and all the extracurricular activities.

This is because of all of YOU!! THANK YOU!! I am eternally grateful to anyone that orders a Nest from us.

With love, Ashley