Safety Guidelines and Nest Care
The BabyNest® was designed to make life easier for new parents and their babies! BabyNest®s be used anywhere your baby is resting.
When and Where to Use a Nest
You can use your Nest virtually anywhere around the house, or bring it with you wherever you go! It is perfect for travelling as your little one can rest anywhere stress free!

WilderNest®s are perfect for camping, or any type of travel as they are also lightweight and easily pack in to any travel bag or backpack. They are made from a heavier weight cotton which makes them extra durable but being 100% cotton they are still soft enough for everyday indoor use.
Uses
PERFECT FOR SUPERVISED: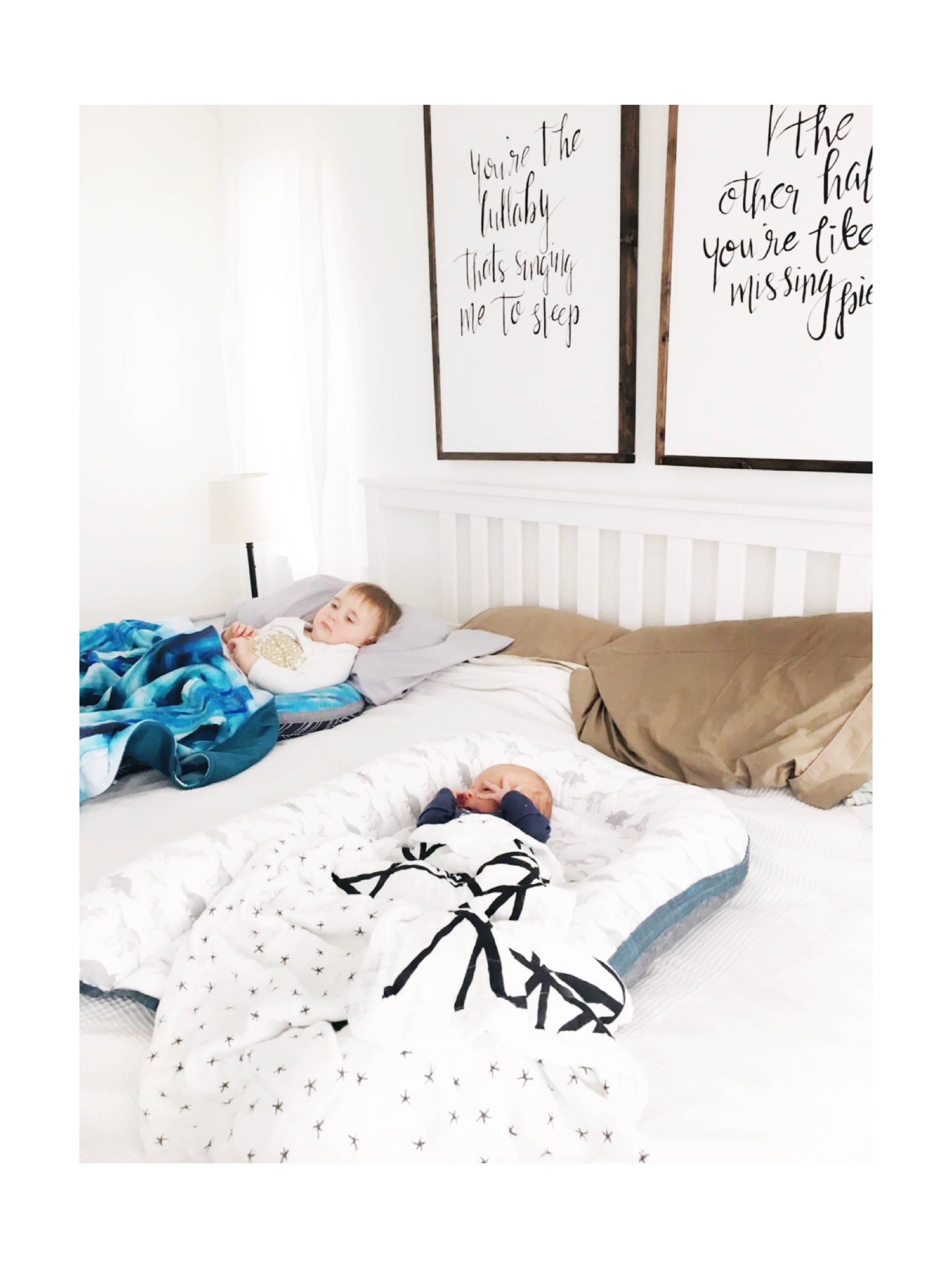 Our BabyNest®s and Toddler size Nests fit perfectly into any standard sized suitcase or backpack with ease ..
How to Wash Your Nest

Let's talk about washing your Nest! Accidents happen with children we all know this! That is exactly why I designed a Nest that could be thrown directly in to the washer and the dryer with ease! No zippers or inserts to worry about, we all know covers never fit back on properly after they've been washed!! Here are a few tips!

1. When dealing with stains. Never ever SCRUB your nest. Our fabric is printed not interwoven so you can affect the aesthetic even more by doing so. Simply apply a gentle stain remover and add water .. dab stain with a dry towel and continue until you see the stain lift. If the stain is persistent once the nest has been washed, I suggest hanging it to dry in the sunshine. The bleaching affects from the sun will typically remove the remaining stains. If the sunlight doesn't work try dabbing the stain with a small amount of lemon juice and then place in direct sunlight again until dry Mom Tip: Use a Muslin Blanket or a Pillow case over your nest to help prevent stains.*Amodex (available on Amazon) has been my absolute 'go to' stain remover. Follow instructions given if you choose to purchase this product.

2. Always wash on DELICATE CYCLE in COLD water with LOW SPIN check on your Nest repeatedly while it's in the wash to ensure the cord or snaps do not get caught up while on spin and cause unnecessary damage to your nest. This is just a precautionary measure as I'm sure you wouldn't want anything to happen to your nest and either do I. Remove Nest Immediately after Washing.

3. Always wash your Nest separate, meaning no other items in the wash with your Nest at the same time!

4. If choosing to dry your Nest in the dryer use the same precaution as washing! Set it at low temperature and check on it repeatedly as it will not take long to dry! If you have a timed dryer set it at only 10-20 minutes dry time!

In the literal thousands of Nests that we have made over the years we have only had a handful of washer mishaps. All easily fixed BUT not without paying extra shipping fees and not to mention time without your Nest! 😜 So take extra care when washing but don't be afraid to wash them! Especially with organic cotton it helps keep the fabric fibres tight! Over all I have to say that our Nests wash like a dream and look like new after years of washing!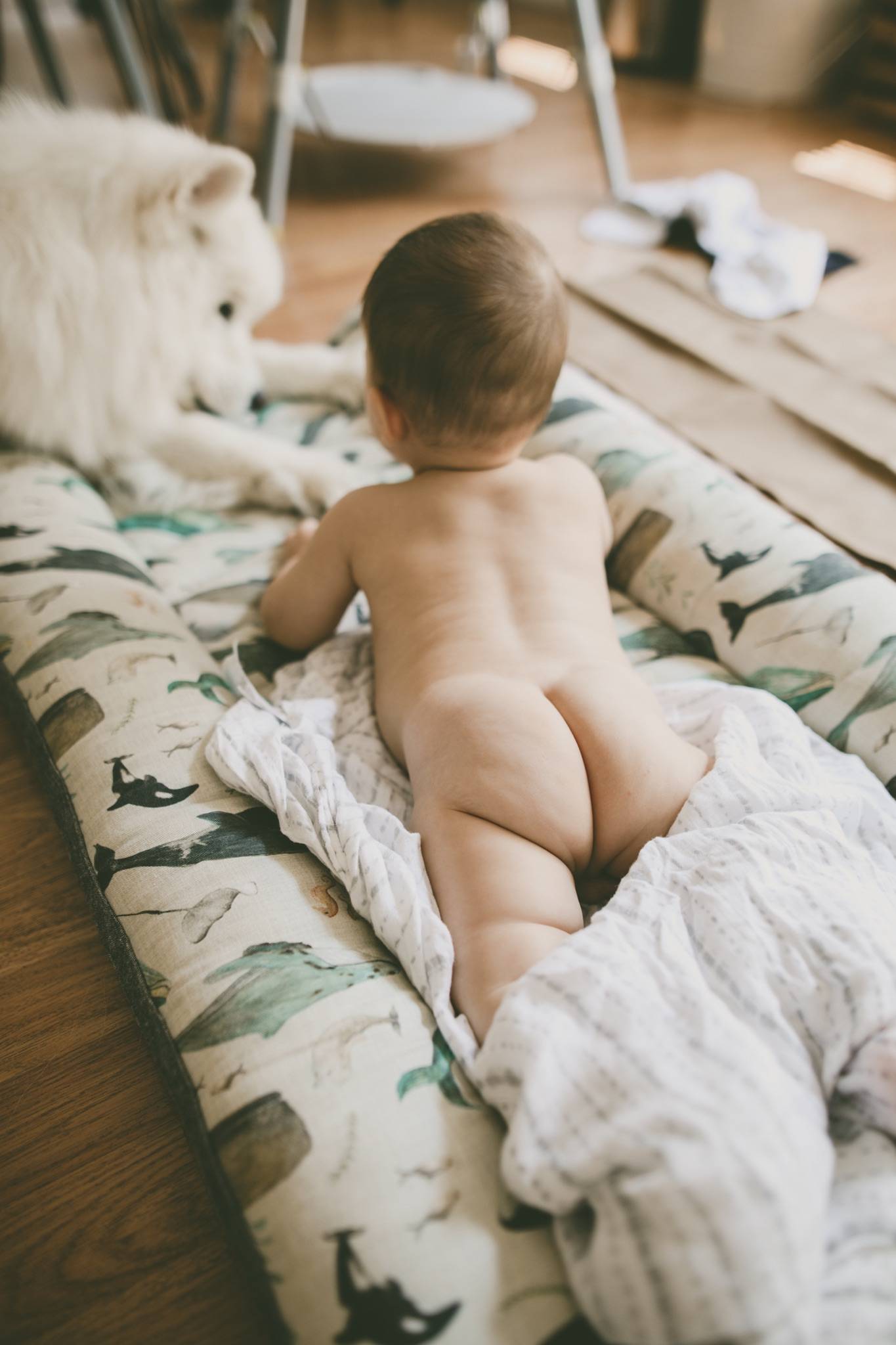 Safety Insert Instructions
Our New Removable Safety Inserts were designed to enclose the base of the Nest while using the Nest tied or untied. It is removable as your little one grows or if you chose to use the Nest laying flat.
1. Ensure that your little one's head is alwayspositioned at the top of the Nest at all times as shown in this image.
When the Nest is used untied and laying flat, always ensure the cord ends are pulled in entirely.
Never leave your little one under the age of 1 unsupervised while using the Nest.
2. To use the Safety Insert simply attach snaps (1 & 5) to corresponding resting space of the Nest, followed by the 2 snaps (8 & 9) to the base of the Nest.
3. You can now choose to shape the Nest by tightly tying the cord or leaving it untied and tuck the remaining cord out of your little one's reach as shown in this image.
4. To enclose the base of your LoveBird Baby Nest, follow the instructions below along with this image:
1. Snap position as shown
2. Snap button 1 to 5 to corresponding exterior snaps.
3. Snap button 6 to 6a
4. Snap button 7 to 7a
5. Snap buttons 8 to 8a and 9 to 9a of the base.
5. This is how the Nest will look after successfully finishing all the steps.



Safety Concerns and All The Important Stuff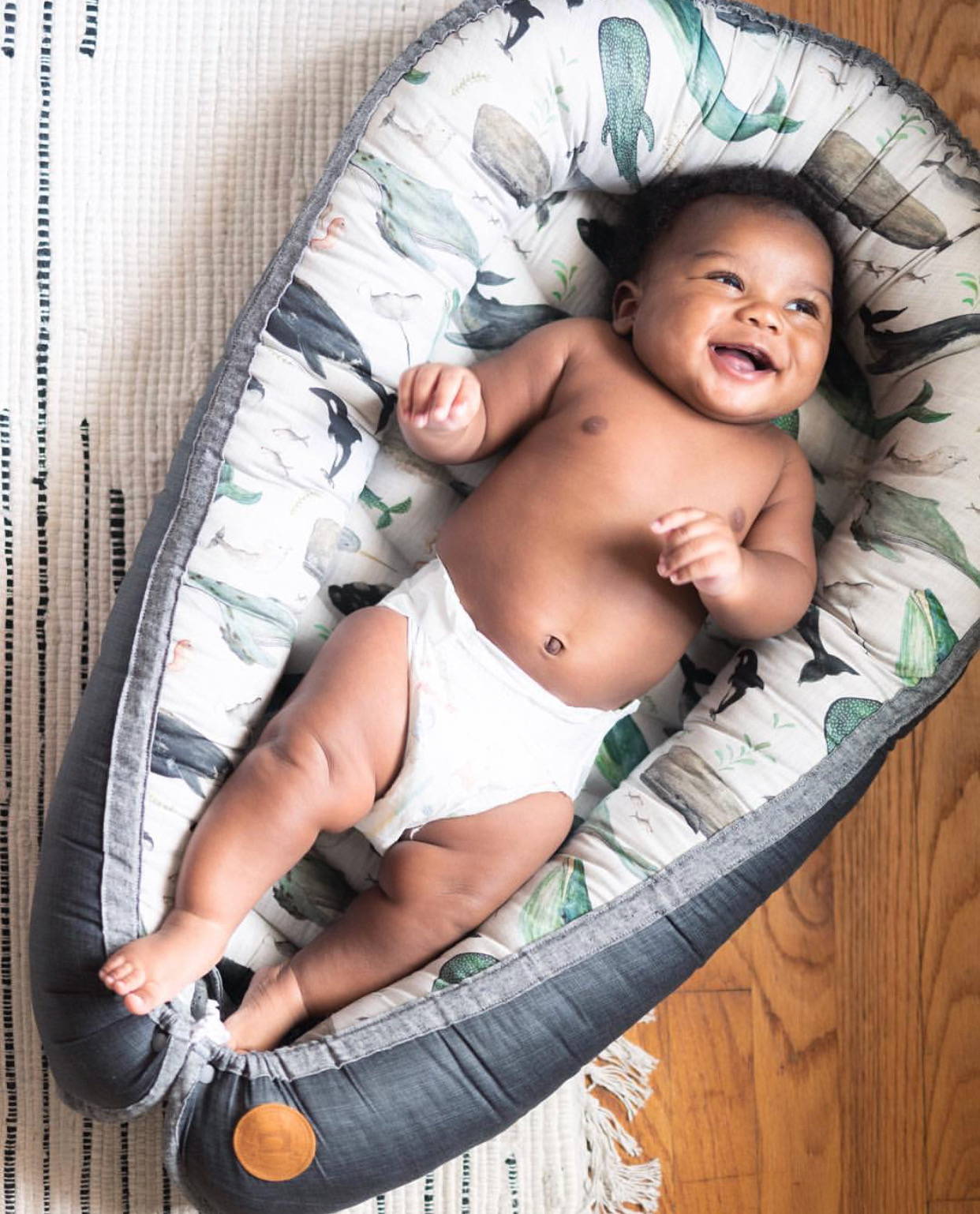 Designed with safety as a priority BabyNest®s and WilderNest®s were designed with your Little Ones health and safety in mind to make life easier for you.


Quality Control:
I check the quality of all the Nests before shipping to ensure that no seams are loose, that no stuffing can escape, and that everything is safely attached if your little one was to start pulling/sucking any part of it. The rope is just long enough to tie up at the bottom, but once open (laying flat) there should not be much rope sticking out, however it may stretch slightly over time.

When in use:
Baby's head should be positioned at the top of the Nest at all times and away from strings.

When the Nest is open always ensure the strings are pulled in entirely.

Place Nest on a flat surface and away from any edge that it could fall from.

Do not place close to fire.

The Nest is not intended as a toy.

Soft objects such as stuffed toys and pillows should be kept out of the Nest.

SIDS recommendations for safe sleeping should always be followed.
''Time to get serious here for a second because we all know the importance of safety where our little ones are concerned! BabyNests are not intended for Infant Sleep!"
Health Canada Warning:
Babies should never be left unattended in baby nests, nor should the nests be placed inside another product, such as a crib, cradle, bassinet or playpen.

Baby nests should never be placed on standard beds, water beds, air mattresses, couches, futons or armchairs. Placing a baby nest on these soft and uneven surfaces can further increase the suffocation risk.
The safest place for a baby to sleep is on his or her back, alone in a crib, cradle or bassinet that meets current Canadian regulations.
When buying a product for a baby to sleep in, it is important to keep the following in mind:
A baby's sleep surface should be firm and flat.

Products with soft surfaces or padding should be avoided.

Products with attached cords, strings or ribbons pose a strangulation risk.

Large openings or gaps in a baby's crib or other sleep environment are unsafe.

Health Canada does not recommend bed sharing or products that are intended to be placed in the adult bed, or attached to the adult bed, because of the risk of suffocation and entrapment. Health Canada and the Public Health Agency of Canada recommend room sharing, using a crib, cradle or bassinet next to your bed, as a safe alternative to bed sharing. Research has shown that it is beneficial for babies to share a room with one or more caregivers, as it may reduce the risk of Sudden Infant Death Syndrome (SIDS).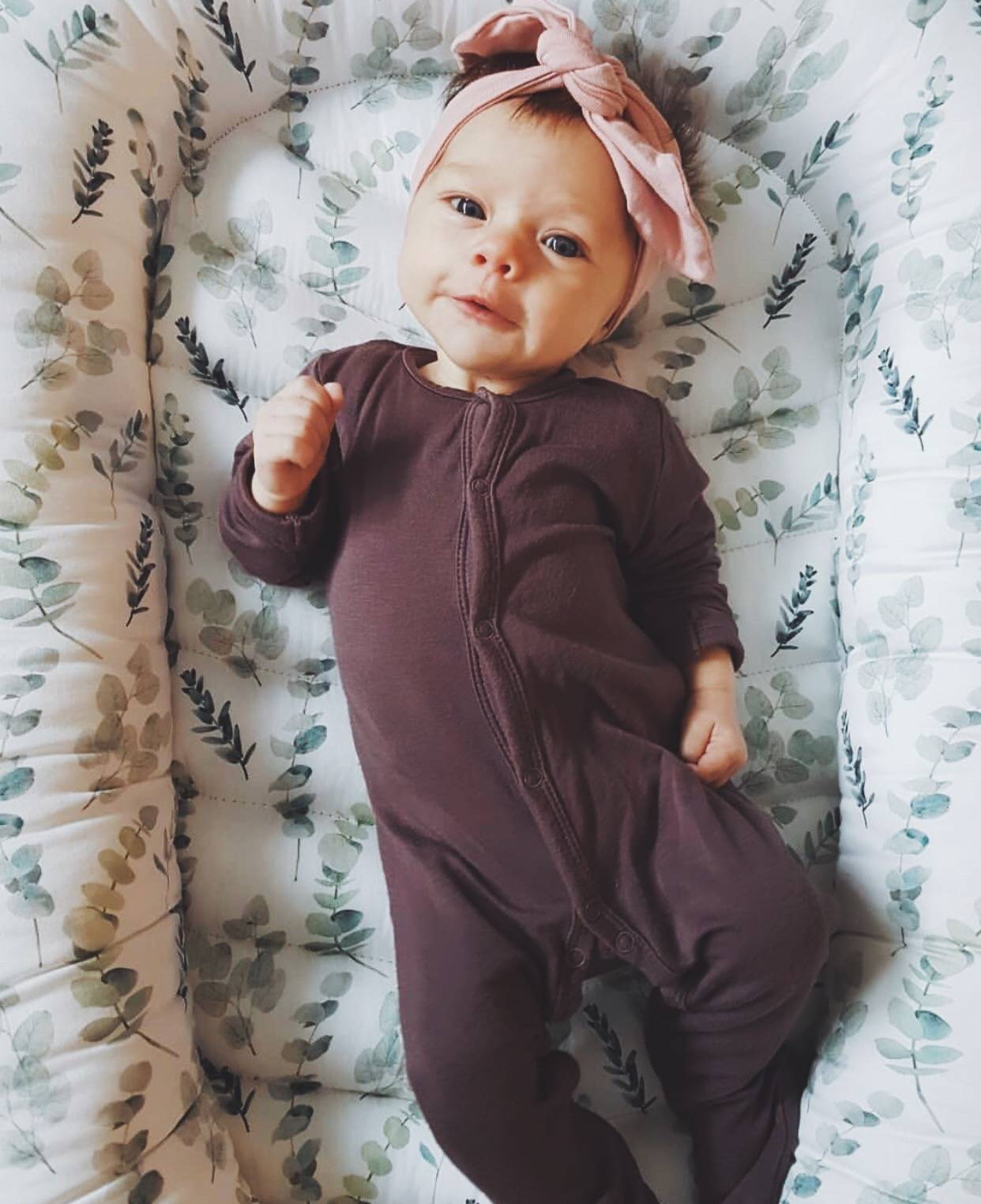 I hope that you love your BabyNest®! I am all for making life as a parent easier, so please don't be afraid to contact me with your feedback! I will take it all in, and you can trust that! Please don't forget to share your story with me! I would love for you to post pictures on my Facebook page or use the #lovebirdbabynests tag on Instagram! It brings me much joy to see all of your Nests in use!

-

Best regards, Ashley